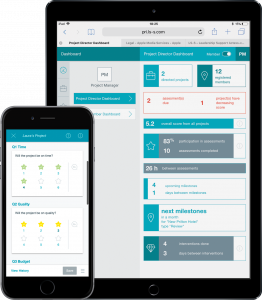 The Project Indicator is a web-app that helps you keep your project on time, budget and quality the simple way. It collects real human data from your stakeholders via surveys and converts it into insightful KPIs.
Why the Project Indicator?
Are you facing increasing complexity in your projects?
The Project Indicator is a powerhouse with a simple workflow.
How?

Project Indicator assets
Collect human data from all
your stakeholders
Get insight on stakeholders' perception
via anonymous feedback
Generate KPI reports with a simple workflow
Features
Visualize project milestones
Generate automated reports
Learn more about the Project Indicator features:
Pricing
BASIC
Modify questions
1 Stakeholder group
1 Active project per month
5 Participants/p. project
30 days project duration
Advertising included
PREMIUM
Modify questions
Add/Remove questions
Edit stakeholder groups
Unlimited stakeholder groups
1 Active project/month
20 Participants/p. project
30 days project duration
Multi-language (EN & DE)
Import participant list
Export reports
ENTERPRISE
Modify questions
Add/Remove questions
Edit stakeholder groups
Unlimited stakeholder groups
Unlimited projects
Unlimited participants per project
Unlimited projects duration
Multi-language (EN & DE)
Import participant list
Export data
Customisation (e.g. logo)